Luxury wedding restaurant in Florence: celebrate in a unique setting
An elegant wedding restaurant in Florence is what we propose for your extraordinary wedding reception at the 4-star Brunelleschi Hotel. Our halls for events, also available to rent privately, we will welcome your wedding feasts right in the heart of Florence.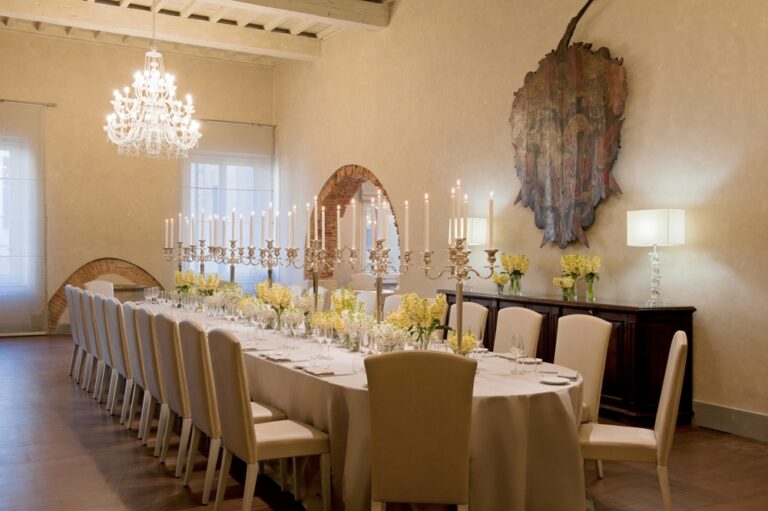 The Restaurant Santa Elisabetta 2 Michelin Stars, on the first floor of our 4-star hotel, offers three historic rooms ready to host up to 120 guests. A warm and luxurious atmosphere will be the framework for unforgettable moments.
Always more and more Italian as well as foreign couples choose Palazzo Vecchio for their wedding ceremonies, the historical former residence of the Medici family and its beautiful Sala Rossa.
The location is enchanting and romantic
In one of the oldest buildings in Florence, the byzantine tower Pagliazza, we'll prepare the amazing dishes created by our renowed Chef.
At your disposal there are three areas within the restaurant itself, to satisfy the most memorable wedding celebrations and banquests for up to 120 people.
Wedding planner in Florence Italy: best wedding planning services
Why don't you commit yourself to our wedding planner in Florence to best organize your wedding? We wish to take care of you and support you with our creativity defining every single detail and realizing what you have always dreamt for your wedding.
Is the ceremony at the Sala Rossa di Palazzo Vecchio? The Brunelleschi is the ideal location at only one hundred meters from the city hall.
Our expert Chef will help you create a tasty buffet or a splendid banquet. The whole staff will think about the most detailed aspects, from the halls decoration to the mise-en-place, from the welcome cocktail to the cake slicing, all coordinated by the wedding planner.
Special fares for the accomodation of the guests who decide to sleep at our hotel and for the "just-married" couple a magic night in one of our Junior Suites and a bottle of exquisite Metodo Champenois and fresh fruit with our compliments.