Find out our selection of nightclubs in Florence. During your next stay in the city, enjoy the local nightlife by stopping at the symbolic nightlife clubs in Florence. We have selected the best clubs in Florence: discos, disco pubs, disco bars and much more to experience magical nights in company. In addition, if you want to stay up all night, we suggest you have breakfast in the splendid lounges of the Brunelleschi Hotel or in the best bars in Florence.
YAB nightclub in the historic centre of Florence
Hip-hop, house and R&B evenings in a spacious, trendy décor nightclub with restaurant. Open since 1979, it has been the most famous nightclub in Florence for generations. Many Hollywood stars and personalities of Italian and international music have passed through here.
It is located in a prestigious area of the historic centre of Florence, between Piazza Strozzi and Piazza della Repubblica. YAB is also a location for private and corporate events, with an area of over 600 square meters.
YAB is in via Dei Sassetti 5/r in Florence.
Red Garter, karaoke, sports on TV and American steakhouse
Famous American themed bar and steakhouse since 1962 offering karaoke, live music and sports on TV.
Every evening, from 09:30 p.m. until late at night, there is the Live Karaoke Show with a stage open to all and a guitarist.
They also offer DJ sets with a dance floor.
A rich calendar of sporting events, music and entertainment is available on the official website>
Local and international clientele frequents it.
Red Garter is in via dei Benci, 33/r in Florence.
Otel discotheque, elegant club of the Tuscan nightlife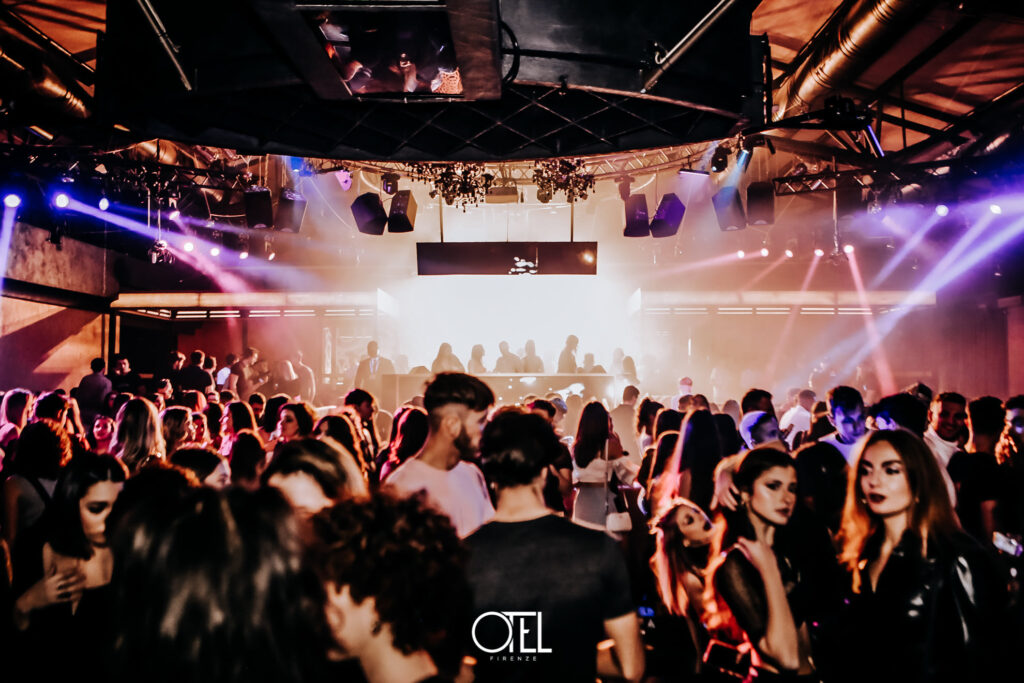 An elegant and modern place with restaurant, variety shows and DJ sets.
It represents the reference club of the Tuscan nightlife with the latest generation sound and lighting system, a large dance-floor, stage and chic private tables.
"Iguazú" is the new restaurant & lounge inside Otel, a real place within the place, with an innovative concept.
Otel is in viale Generale Dalla Chiesa, 9 in Florence.
Flo ', a summer room with a terrace
Open only in summer, it offers parties with DJs and buffet meals with cocktails, on a hilltop terrace overlooking the city.
Ideal place to enjoy Florence's nightlife on warm summer evenings.
Flo' is in Viale Michelangiolo, 84 in Florence.