Hotel in Florence Italy:
Luxury & Boutique Accommodation
Choosing among the various hotels in Florence might look easy, but it is not: there are too many options to chose from, but only few can really deliver the best experience. Brunelleschi Hotel is among these very few.
5/5
«Amazing location, well designed and fantastic service, great breakfast as well:)...»
5/5
«This is a wonderful hotel in a convenient/central location—it is only a short walk from the Duomo. The hotel's concierge and front desk staff are especially helpful. Beautiful rooms/bathrooms enhance the experience. The hotel also has a fantastic food and wine program. Hotel Brunelleschi should be at the top of your list for Florence....»
On this page you will find information on the exclusivity of a stay at the Brunelleschi Hotel:
Location of the Brunelleschi Hotel
Hotel Florence in the Historical City Center
Amongst all the various hotels in Florence, Brunelleschi Hotel is the only one that was created within a circular Byzantin tower of the 6th century and a medieval church, entirely reconstructed with a special care for maintaining the original characteristics of the two buildings.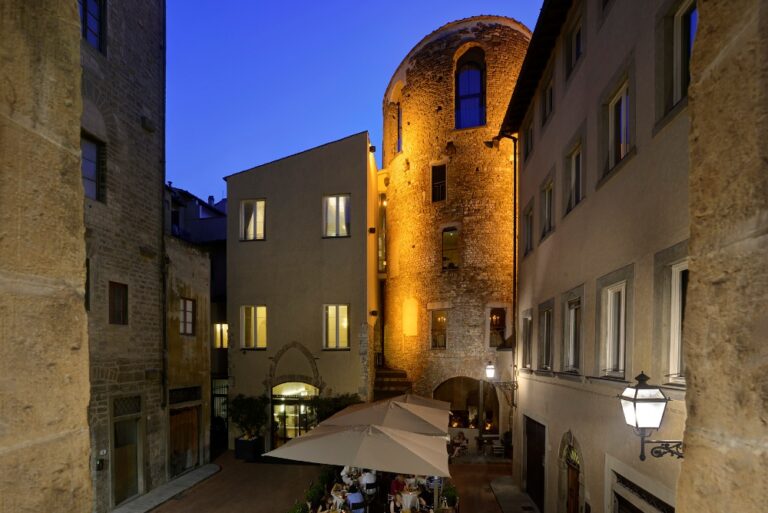 The beauty of Florence
Situated in the very heart of the city, this boutique hotel offers not only 2 restaurants, a private museum, 3 meeting areas, a gym and 96 rooms and suites, but also the possibility to reach the city center on foot: as we all very well know, one can truly appreciate the beauty of Florence only walking around and enjoying everything that the city has to offer architectural and monuments-wise.
Discover the hotel
In the very heart of the city
Situated in a romantic location, close to Piazza Duomo and to the most popular monuments, this hotel will be for you a sensual entrance to Florentine life at night as well as during the day.
Our concierge will introduce you to the museums, events, and surroundings to visit.
Find out where we are
DUOMO (CATHEDRAL OF SANTA MARIA DEL FIORE)
2 min walk – 190 meters / 623 ft
THE UFFIZI
5 min walk – 400 meters / 1312 ft
PONTE VECCHIO
6 min walk – 500 meters / 1640 ft
SANTA CROCE
7 min walk – 600 meters / 1968 ft
GALLERIA DELL'ACCADEMIA
9 min walk – 700 meters / 2296 ft
PALAZZO PITTI
12 min walk – 1 km / 3280 ft
DUOMO (CATHEDRAL OF SANTA MARIA DEL FIORE)
2 min walk – 190 meters / 623 ft
THE UFFIZI
5 min walk – 400 meters / 1312 ft
PONTE VECCHIO
6 min walk – 500 meters / 1640 ft
SANTA CROCE
7 min walk – 600 meters / 1968 ft
GALLERIA DELL'ACCADEMIA
9 min walk – 700 meters / 2296 ft
PALAZZO PITTI
12 min walk – 1 km / 3280 ft
Hotel Florence: a unique place for a perfect holiday
One can surely find hundreds of options for a hotel in Florence, even for a high-end one, but we can guarantee that none surpasses Brunelleschi Hotel in luxury, elegance and location: every room is designed to offer the visitors the maximum comfort, plus you can literally wake up and go take a walk to Piazza della Signoria, just for warming yourself up. Can you imagine a better way to start off your morning?
Exclusive location and a classy feel
If you are looking for a place where you can not only spend a few nights, but also live an authentic Italian experience while spoiling yourself with exquisite meals and beautiful sightseeing, Brunelleschi Hotel is the mandatory choice for you: trust us and you will not be disappointed.
This charming hotel in Florence is so well known that even Dan Brown had to mention it in his most famous book, "The Da Vinci Code".
"(…) When can I see you again?" Langdon reeled momentarily, lost in her eyes. "When?" He paused, curious if she had any idea how much he had been wondering the same thing.
"Well, actually, next month I'm lecturing at a conference in Florence. I'll be there a week without much to do."
"Is that an invitation?" "We'd be living in luxury. They're giving me a room at the Brunelleschi."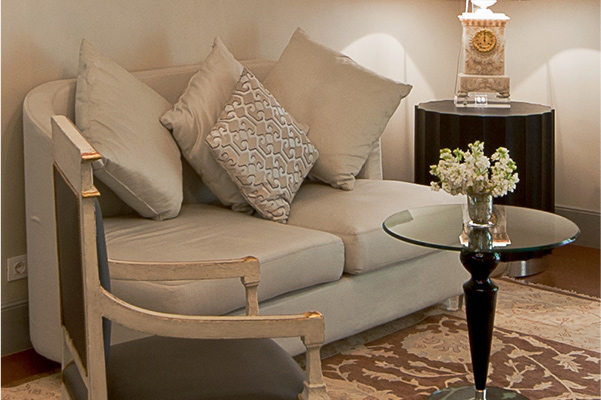 We can say that we are talking no ordinary accomodation here: this is an authentic boutique hotel, with an exclusive location and a classy feel inevitably associated with it; it is classified 4 star and not without a reason.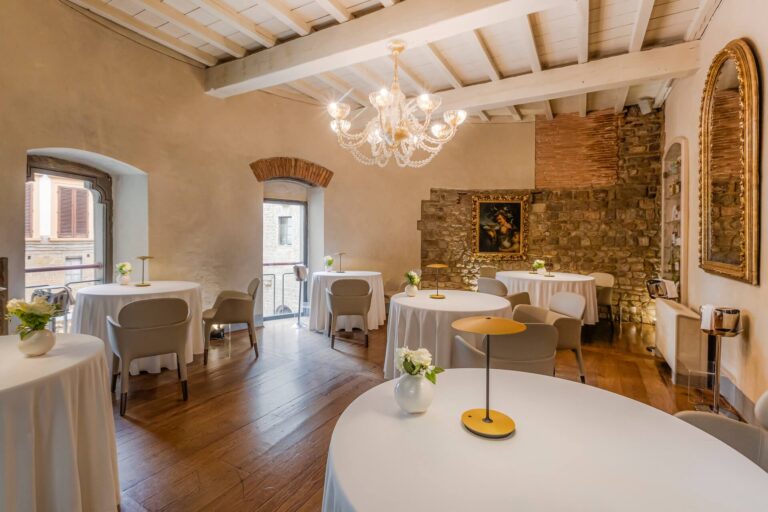 SANTA ELISABETTA: TWO MICHELIN STAR RESTAURANT
Discover the restaurant
OSTERIA PAGLIAZZA: THE BISTRO OF THE STARRED RESTAURANT
Osteria Pagliazza (serving Tuscan cuisine with a modern twist) is located on the ground floor of the Pagliazza Tower.
Open every day for lunch and dinner.
Discover the Osteria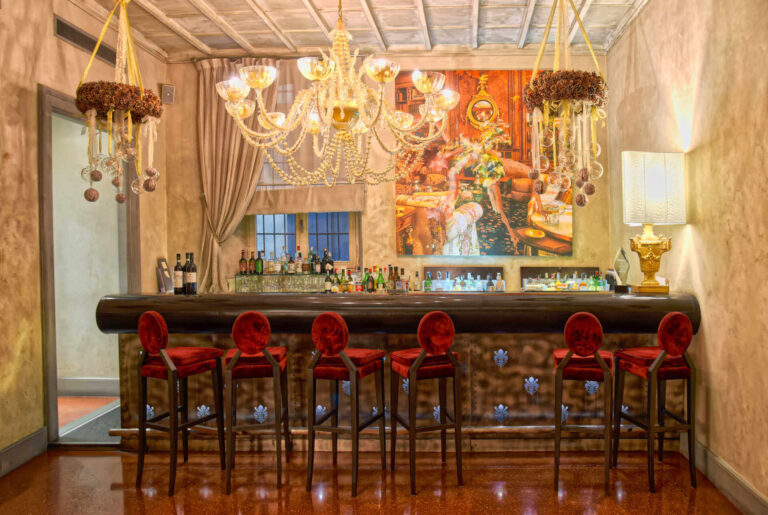 TOWER BAR: EXCLUSIVE LOUNGE BAR IN THE HISTORIC CENTER
Aperitif in the historic center of Florence at the Tower Bar. The bar is open every day from 12.30 to midnight.
Discover the lounge bar
Ancient and fascinating building
Mr Sergio Iannotta and Mr Raffaele Biagiotti, members of the "Clefs d'Or", the world association of the best hotel concierge staff, with all their collegues of the front-office are available for all your needs 24 hours a day, to make your stay in our hotel in Florence is a unique experience.
You will recognise them from their uniform reproducing the golden keys on his jacket.
In recent years, the hotel has been completely renovated to become more and more welcoming and comfortable for the guests, respecting and enhancing the ancient and fascinating building:
Hotel facade, Main glass staircase and Furnishing of common areas
New Suites, Restructuring of the lobby and reception, breakfast hall, meeting halls and lifts
Gourmet Restaurant Santa Elisabetta, Tower Bar and Opening of outdoor spaces dedicated to catering services
We will be glad to satisfy any of your requests, we will look after you in anything you need during your time in Florence: planning your itineraries, booking the most beautiful museums in Florence with tour guides, suggesting to you the top places to go shopping or the ateliers of renowned Italian stylists, choosing a good restaurant to taste Tuscan wines and food, reserving opera and concerts tickets or transfers from and to the airport, the railway station, car renting, or touring with a limousine with private driver.
Hotel Services
The past and modern season find at Brunelleschi Hotel a common centre, a hotel capable of preserving the signs of older eras and modernizing them in an atmosphere of charm.
For more interesting facts on Florence and the hotel click here…
Luxury Hotel in Florence and its Scents
Intoxicating Ambient Fragrances by Laura Tonatto will welcome you to the hotel; aromatic harmonies prepared to give you unforgettable olfactory sensations.
Every detail is important in our charme hotel. Because of this, we take care of its look while also not neglecting the other senses, like smell and taste.
The 'Acqua Barocca' (Baroque Water) essences that will accompany your stay were selected directly by Laura Bosetti Tonatto, one of the most famous Italian 'noses' in the world, who has been making exclusive mélanges for the main maisons in the industry for over 30 years.
It is a fragrance that combines the scents of two refined white flowers, narcissus and lily of the valley: the first being intense and enveloping, the second full of relaxing purity.
Together, they convey a sensation of great freshness, linked to the flow of water, a dominant element in the history of Florence.
An olfactory imprint to remind you of a wonderful stay in one of the most beautiful cities in the world.
Brunelleschi Hotel History: Charme in Florence
Booking a suite of this boutique hotel in central Florence means entering the heart of the city, getting to know its historical roots. Our hotel bears the name of one of the old owners of the building, Filippo Brunelleschi, a wonderful Renaissance artist author of the Dome of Santa Maria del Fiore.
The very Torre della Pagliazza (541-544 AD), a unique building in the whole Tuscan capital and symbol of the hotel, is one of the remotest buildings within the city walls and today houses the Pagliazza Tower Suite on the third and fourth floor, a conference hall for business meetings on the second floor, the 2 Michelin Star Gourmet Restaurant Santa Elisabetta on the first floor, and the Osteria Pagliazza on the ground floor.
Let yourself be accompanied by the concierge at the Museo della Pagliazza among the archaeological finds discovered during the excavations in the basement of the Torre della Pagliazza and you will be able to study closely a Roman "calidarium", a hammam used in ancient times for the sauna. You will also admire fragments from the Roman era and a Renaissance collection of Montelupo ceramics.
The luxurious lobby of the boutique hotel in the centre of Florence is located where once stood the church of San Michele, known as "in Palchetto".