Hotel in Florence Italy with gym: get your fitness on
Located inside the hotel in Florence, equipped with the latest Technogym machines, a gym inside the hotel is the perfect solution to keep fit even away from home.
Upon returning from a tiring day in Florence among museums and shopping streets, a fitness session is what it takes to recover momentum and tone.
Our Florence gym hall, recently renovated, has a wooden floor, three walls with mirrors and locker rooms with lockers and showers. The opening time of the gym is from 06:00 until 21:00.
The hotel gym gets cleaned and sanitized several times a day, based on the influx of guests.
In this gym you will find these equipments:
Three treadmills, a stepper and a cyclette, with a USB entry for your earphones, iPod docking station, drink holders, regulation of inclination and speed, wi fi internet connection.
Multipurpose machine for both legs and arms.
Bench.
Exercise mats and balls for aerobics and pilates.
Weights and barbells of different sizes.
Bottles of water.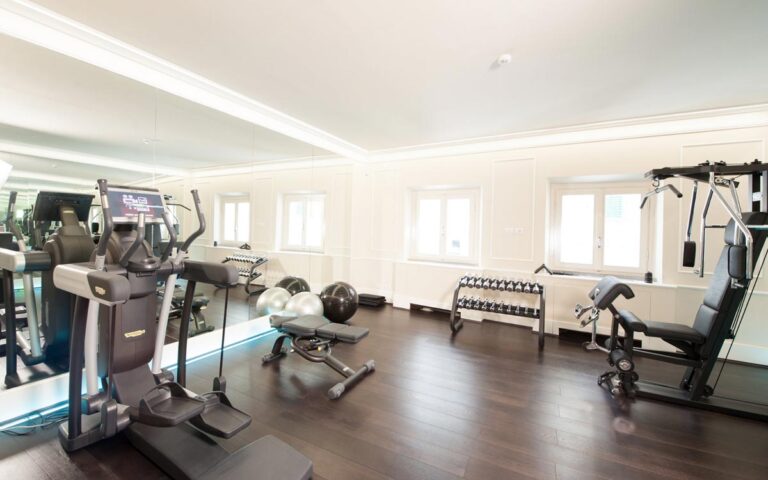 Also available is Technogym Case, a rental design bag delivered directly to our guests' rooms containing a smart range of equipment, complemented by the Virtual Trainer service, a library of video content with training sessions.
The kit is supplied fully sanitized with EN 14476 virucidal products after each rental.
Taking care of yourself is important on every occasion and for this reason we also recommend a healthy and balanced diet by choosing the menus of our chef at the Santa Elisabetta Restaurant or at the Osteria Pagliazza.
Foam roller.
Massage ball.
Exercise mat made of biodegradable natural rubber with non-toxic foaming agents, complemented by a top layer in flexible and 100% recyclable gelatin.
Resistance bands in three different resistance levels.
QR code to access the Virtual Trainer service.