Take this offer and live the adventures of Dan Brown's book protagonist at our hotel in Florence.
Dan Brown Tour in Florence
The tour dedicated to Dan Brown includes a visit on foot of the places mentioned in his novels and in the films inspired by them: 'The Da Vinci Code' and 'Inferno'. It is an engaging journey lasting about four hours to visit locations that can be easily reached from the Brunelleschi Hotel.
You start from the Boboli Gardens to continue towards Piazza della Signoria with an hour-long visit to Palazzo Vecchio, where you can admire the extraordinary Salone dei Cinquecento with Vasari's masterpiece 'The Battle of Marciano'. The Dan Brown tour ends with a visit to the Baptistery of San Giovanni* in Piazza Duomo.
*The access ticket to the Baptistery available during the tour also allows you to freely visit (only once) the Museum of the Opera of Santa Maria del Fiore (Duomo), Brunelleschi's Dome, Giotto's Bell Tower, and the Crypt of Santa Reparata inside the Duomo.
The visit to Brunelleschi's Dome is subject to reservation.
Access to the Duomo (Cathedral of Santa Maria del Fiore) is free, cannot be reserved, and is not part of the single ticket.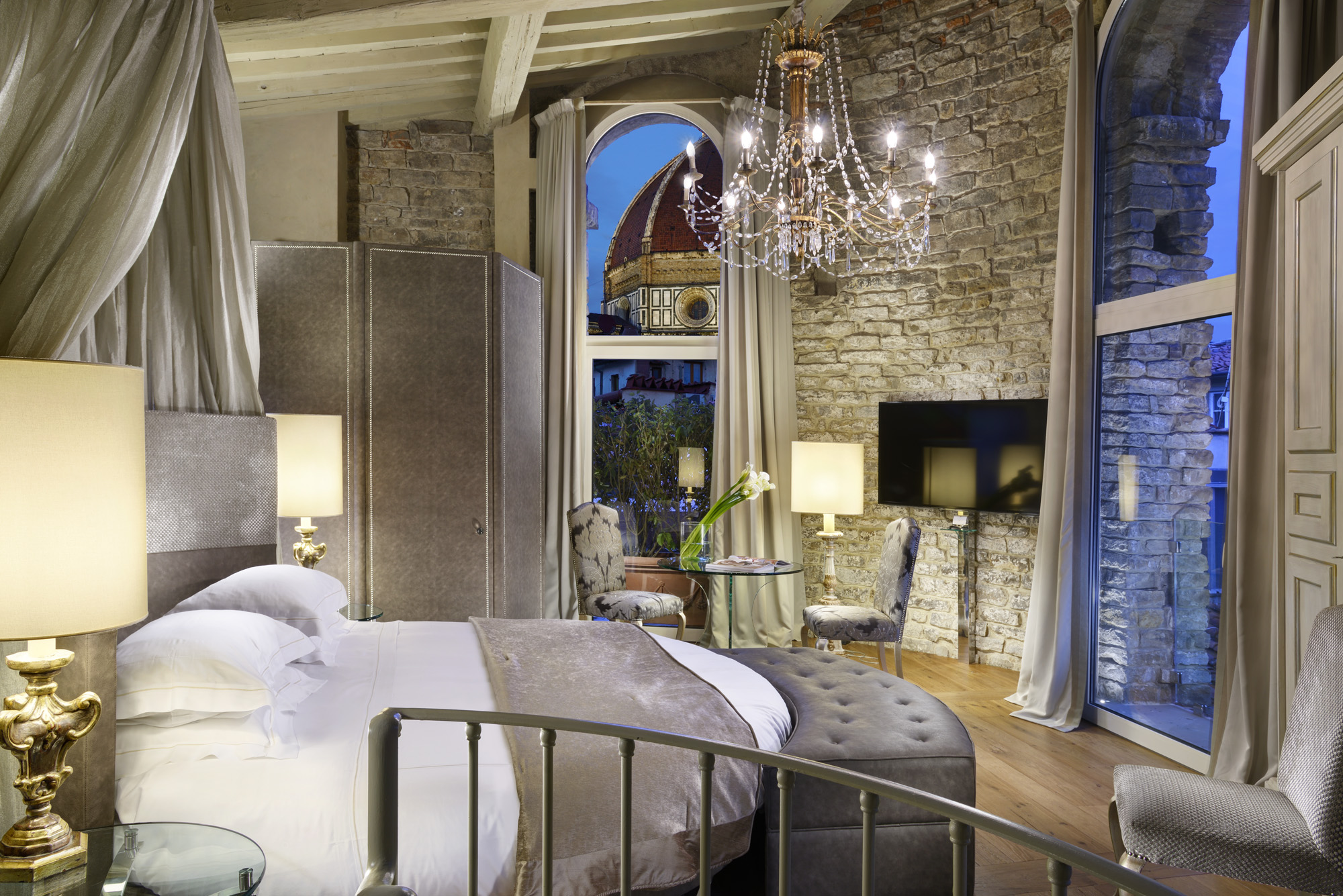 References to the Brunelleschi Hotel in Dan Brown's novels
The end of The DaVinci Code:
"When can I see you again?" Langdon reeled momentarily, lost in her eyes. "When?" He paused, curious if she had any idea how much he had been wondering the same thing. "Well, actually, next month I'm lecturing at a conference in Florence. I'll be there a week without much to do." "Is that an invitation?" "We'd be living in luxury. They're giving me a room at the Brunelleschi."
"It was early evening when Langdon made his way across Piazza Sant'Elisabetta and returned to Florence's elegant Hotel Brunelleschi. Upstairs in his room, he was relieved to find an oversize package waiting for him."
"Langdon exited the hotel, carrying the delicate package with him in a Hotel Brunelleschi tote bag, which he had borrowed from the concierge. The evening was unusually warm, adding to the dreamlike quality of his walk along the Via Calzaiuoli toward the lone spire of the Palazzo Vecchio. "