A luxurious and exclusive event in the heart of Florence with a dinner waiting for New Year served in suite with menu from the Restaurant Santa Elisabetta 2 Michelin Stars: discover the gourmet menu in this Luxury version for December 31st, 2023.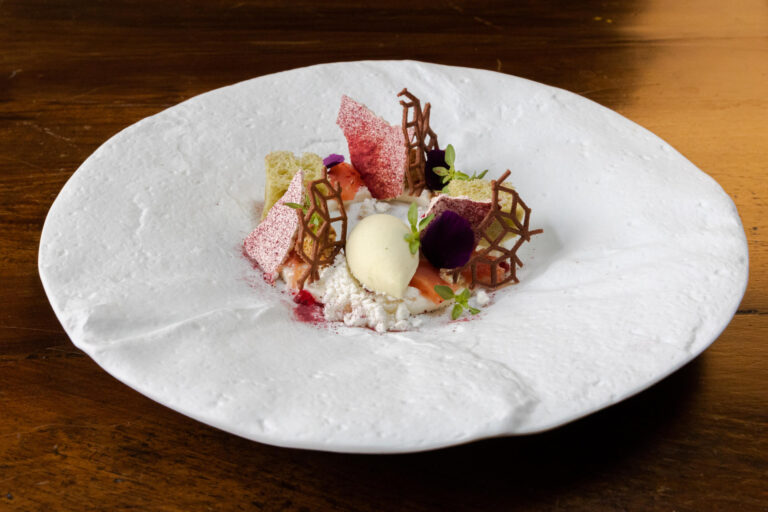 Wine pairings by our Maître.
We suggest to book the restaurant in advance due to the limited number of places available.
Book a holiday in Florence in December and choose our restaurant to celebrate the arrival of the new year.
New year's eve dinner Florence Italy: restaurant in the historic center
Minimum reservation required: 2 people.
€ 999 per person including wine.
Sample Menu 2022. Menu 2023 will be available as the event date approaches.
Here is the tasty proposal:
Fake Sherry
Cannol with Olives, Goat cheese and Yuzu
Oyster with siphon hollandaise sauce, green Apple and Anise gel
Saffron puffed Beignets filled with Cacio & Pepe
Scampi Tartare, Potato mousse, Pinenuts and Tarragon
Mazara del Vallo red Prawns, Porcini mushrooms, Porto gel
Bernese sauce and black Truffle from Périgord
Blue Lobster salad, Beurre Blanc sauce, Mandarin compote and Artichokes in consistency
Dripping of smoked Provola cheese and Asetra Caviar
Lasagnetta with Ricotta cheese and Lemon, cooked and raw Fish, Sea Urchin emulsion and Seaweed
Snapper black & white: slice of Snapper with Mugnaia essence
Cauliflower, Caviar and white San Miniato Truffle "Savini selection," Almond intensity
Pomegranate sorbet, Kefir mousse and Pecan Brittle
Our version of Mont Blanc: soft Chestnut flan
Gianduia and Mandarin liquid heart, Buffalo Ricotta cheese mousse and Meringue
Vesuvius IGP "Pelecchiella" artisan Apricot Panettone
Made by our Pastry Chef Francesco De Padova
The Dried Fruit
Small Temptations
Natural and sparkling mineral water
Espresso Coffee
A welcome flûte of Comtesse Marie de France Brut Grand Cru 2010,
Paul Bara
100% Pinot Noir
One bottle of Special Club Brut Grand Cru 2015
Paul Bara
70% Pinot Noir, 30% Chardonnay
, every 2 people
A glass of Colheita 1976
Port, Quinta do Noval
Portugal
with dessert
One bottle of Champagne Brut Reserve Grand Cru s.a
Paul Bara
70% Pinot noir, 30% Chardonnay
for the Midnight Toast, every 2 people