You will discover in our conference rooms, the San Michele and the Pagliazza, both charm and prestige at your disposal.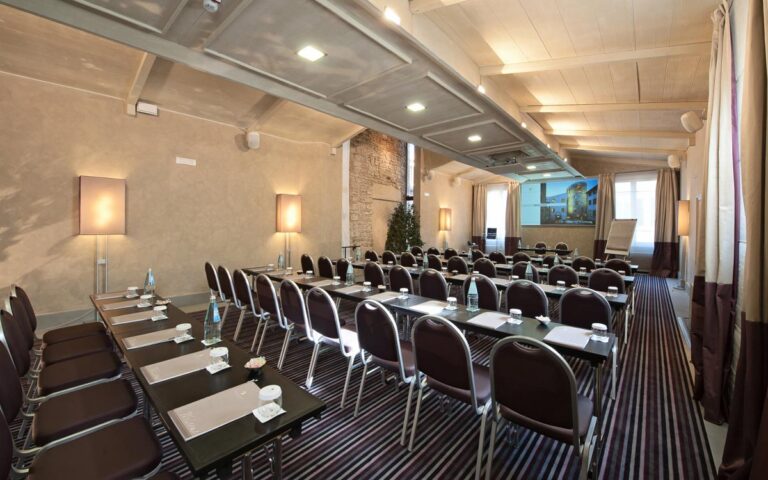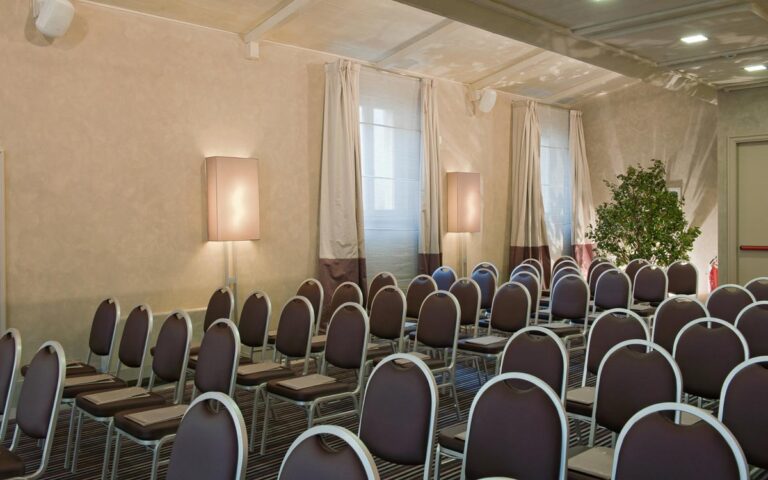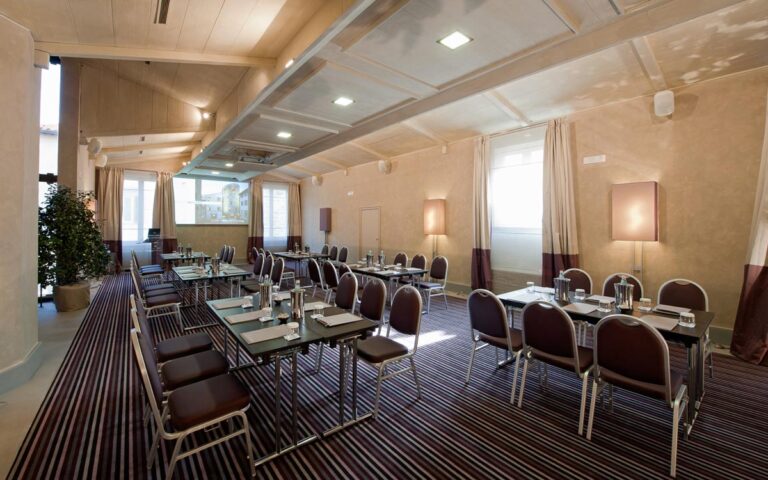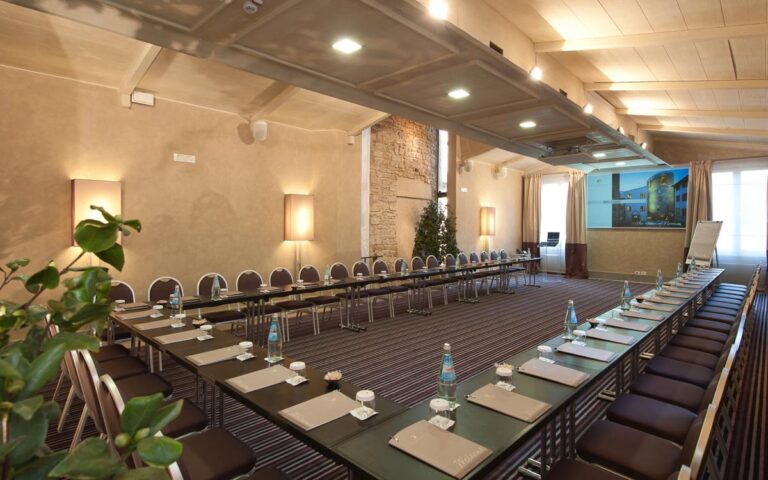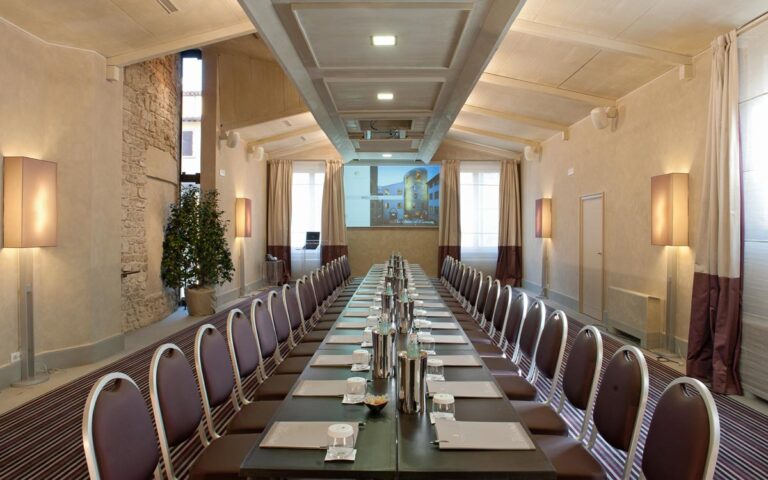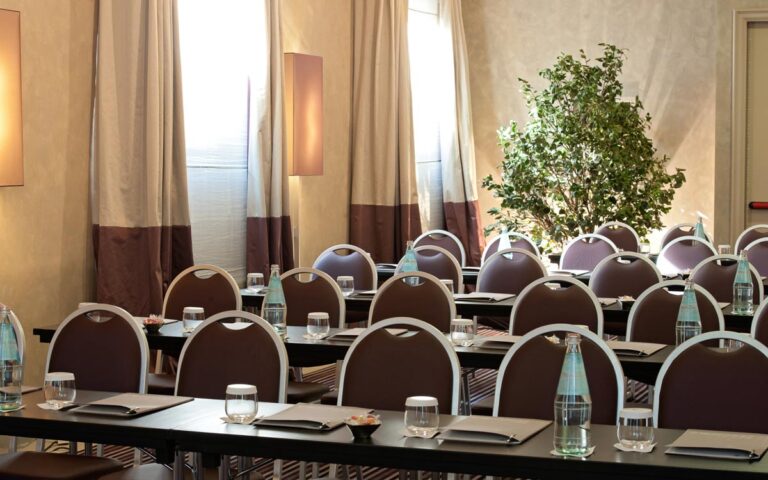 The former one is more spacious and can accommodate up to 120 people while allowing to be arranged in theater, classroom, U-shape or boardroom styles, while the latter one blends a more intimate ambiance with the building's historical essence due to its 36 m2 – 387,50 sqft area inside an authentic bizantine tower, making it perfect for more discrete conferences.
Brunelleschi Hotel received the Condé Nast Johansens Award for Excellence 2019 as Best for Meetings or Conferences.
San Michele Hall for meetings in Florence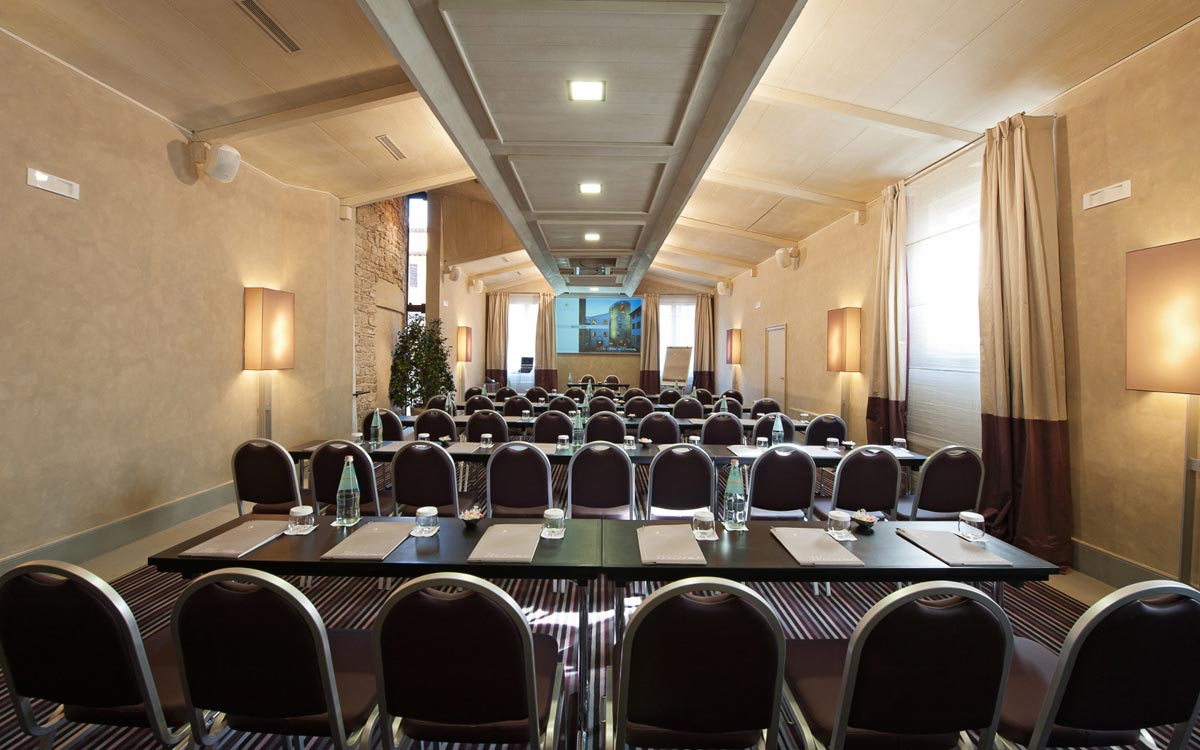 Inside this Hotel for Meetings in Florence you will find the San Michele Hall, an elegant venue that is perfect for work meetings and conventions. Located in the city's historic center, it can host up to 120 guests while it can be arranged in the most varied styles.
Just around the corner from Fortezza del Basso and a few minutes away from the airport, our hotel will be the perfect environment for successful events.
This 94 square meter  –  1011,81  sqft meeting chamber features:
Audio:
Featuring 6 Mak 6 loudspeakers + 14 channels Yamaha audio mixer + Tenix ER 100 MP3 sound recorder on SD and USB + XA 1000 amplifier
Standard microphones:
n° 4 desk base microphones
n° 3 dynamic microphones ( 2 cardiodid + 1 headset)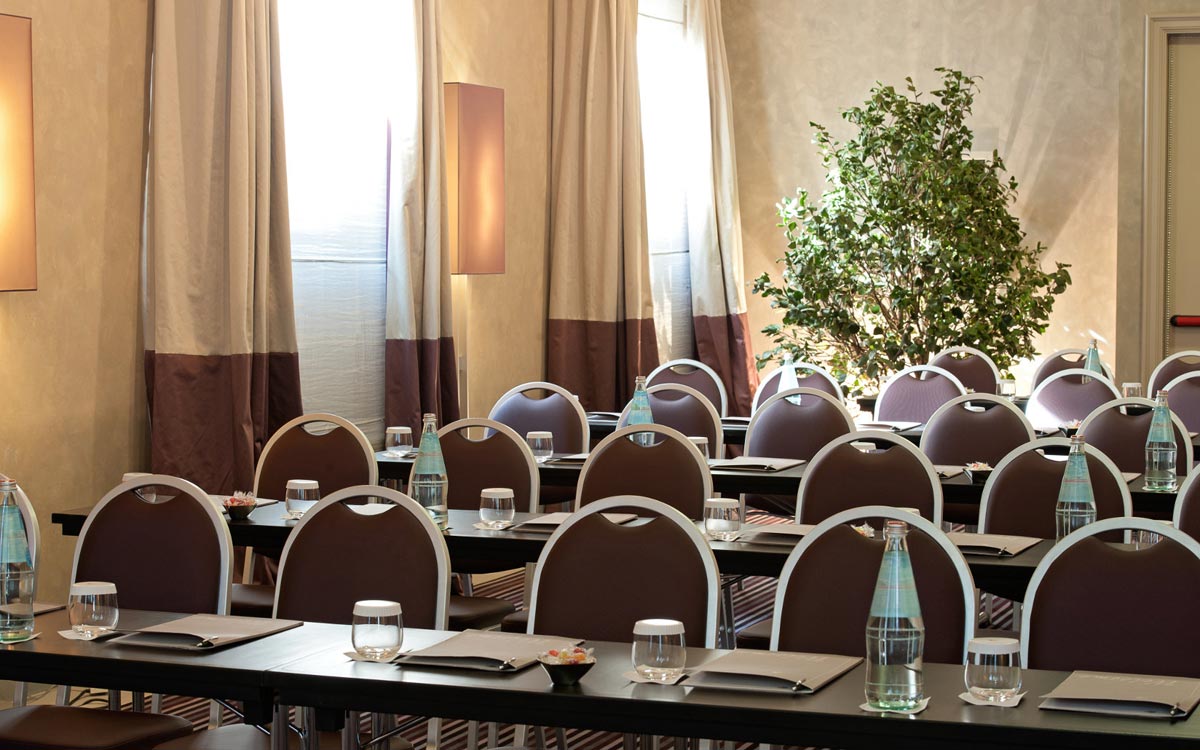 Equipment included in the cost of the conference room rental:
Videoprojector;
Screen;
Flip chart;
4 desk base microphones;
Dynamic microphones;
Sound system;
Laser pointer;
220V voltage;
Podium.
Equipment upon request and with an extra charge:
Clip microphone;
Videorecorder;
Live music;
Interpreter services;
Ballroom stage;
Catwalk for parades;
Rear projection screen;
IP line videoconference system;
Wifi and wired internet connection;
Windows and Mac PCs available;
Radio Mouse/Presenter;
B&W fax and printer;
Full day technical assistance.
Conferences, events and meetings
Sala Pagliazza: the most beautiful meeting room in Florence
If you are looking for an hotel with meeting room in Florence you are in the right place. The Hotel Brunelleschi is one of the best hotels in the city and offers you the most exclusive meeting room, Sala Pagliazza, alongside the Santa Elisabetta Square, only a few meters away from Brunelleschi's Dome.
You can set up your conferences inside one of Florence's oldest buildings, the Pagliazza Tower, and welcome your guests in a wonderful setting in the center of Florence.
Our meeting room will let you to organize conferences, events and meetings surrounded by art, history and culture in one of the most important monuments in Florence. It extends for 36 m2 – 387,50 sqft and it allows for many different board and chair arrangement styles.
Our Chef will be happy to offer you and your guest an international menu or dishes inspired by the Italian and Tuscan culinary tradition.
Our meeting room Sala Pagliazza provides all the necessary to set up a great meeting or a conference:
Video: LCD  LG 60UF695V  – 60'' , misura 133 cm x 77 cm , HDMI e HDMI 4K;
Flip charts and 220 voltage sockets available.
Conference Rooms in Florence
Our structure offers the most exclusive conference rooms in Florence. Highly versatile, ideal to host any kind of meeting in a unique environment. Our hotel will enable you to hold prestigious press conferences thanks to its strategic position in the evocative and romantic center of Florence.
By leasing these meeting halls you will have access to al the necessary equipment and our guaranteed assistance, from technicians to proper training. We can also set up a professional and competent secretarial office upon request. Book our hotel for any conference and choose the genuine allure of Tuscany.
For further info and quotations: mice@hotelbrunelleschi.it – tel +39 055.27370.